De Heus is a Top Employer
Royal De Heus has received the certification as a 'Top Employer' by the prominent Top Employers Institute on 12 February 2015. 'We are proud of this achievement because it makes us part of a select group of leading employers,' says Isolde Eleveld, Corporate Director Human Resources at De Heus. 'This prestigious certification amplifies the reputation of De Heus as an attractive employer within and outside the animal feed industry,' she continues.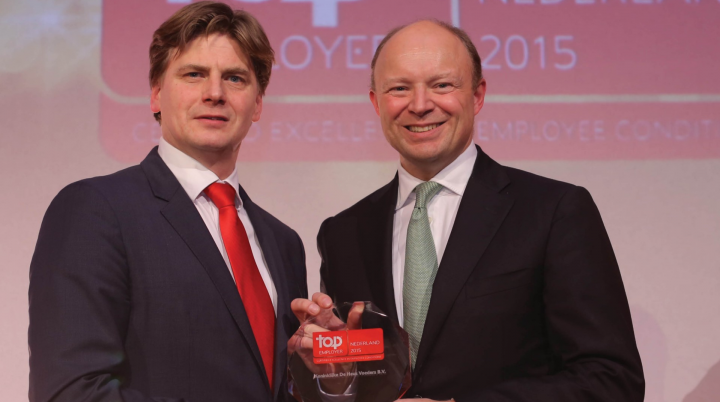 The annual assessment by the Top Employers Institute acknowledges leading employers for its HR policy. Leading employers are companies which offer outstanding employment conditions, stimulate the development of talent at all levels within the organisation and strive to provide an exceptional working environment. The assessment also focuses on the cultural aspects within the company. Hence, De Heus has received the exclusive certification as a Top Employer 2015 in The Netherlands for its HR policy.
Validated research
'Within the framework of the Top Employers research, we underwent an extensive assessment process,' explains Isolde Eleveld. 'To ensure the validity of the process, all HR practices are audited by the objective third party, Grant Thornton.' This positive result makes De Heus part of a select group of leading and appealing employers.
Passionate employees make the difference
'With offices in ten countries and export activities to more than fifty countries, Royal De Heus has evolved into a leading international producer of animal feeds. We can only succeed in our ongoing focus on progress with the help and dedication of our passionate employees. We strive to provide a dynamic and appealing working environment which enables our employees to optimally develop themselves and to gain and share knowledge. We invest in the development of our people in order to help them achieve their full potential and keep them committed to our vision, our values and our company culture. At the same time we support managers in getting the best out of people. We are therefore delighted to have received the certification as a Top Employer by the Top Employers Institute', concludes Isolde Eleveld