De Heus present at ILDEX Indonesia 2015
De Heus Vietnam participated in ILDEX International Exposition 2015 - Indonesia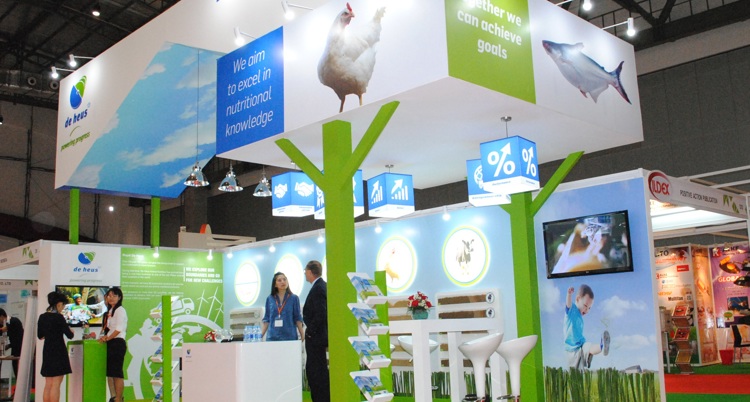 De Heus was present at the International Livestock, Dairy, Meat Processing and Aquaculture Exposition (ILDEX), taken place at International Exhibition Center - Indonesia (JIEXPO) from 8th of October to 10th October, 2015. This year the exposition attracted more than 200 enterprises and organizations from 28 nations to participate and exhibit their products and services in several different sectors within the industry including Animal Feed production, Feed Additives and Premixes, Animal Health and Pharmaceutical products, Farming equipment etc.
More than 8,000 visitors visited the exposition, including managers/owners of livestock, poultry and aqua farms as well as distributing enterprises and experts in animal health and nutrition. Visitors were updated on novelties in farming techniques, as well as the latest, innovative developments in equipment and nutrition. Apart from the exhibition, visitors could attend several technical seminars given by participating enterprises such as De Heus, Big Dutchman, Behn Meyer, CP and Japfa.
De Heus is present in many countries in South East Asia. By participating in the ILDEX Indonesia Exposition, we aimed to further extend our brand awareness and activities on the Indonesian market. Besides, and even more importantly, we wanted to show what De Heus can do in supporting the sustainable development of the livestock industry in the countries where we are present. This completely aligns with the company's motto "OUR GOAL IS TO MOVE FORWARD. We are doing this through CONSTANT LEARNING, ENTREPRENEURIAL SPIRIT, and CAPABILITY TO GO BEYOND THE BOUNDARIES and to HELP our customers' businesses move forward".