De Heus Vietnam 'Best Company of the Year'
De Heus LLC (Vietnam) has been recognized as the 'Company of the Year' at the Benelux Business Awards 2014. The Belgium-Luxembourg Chamber of Commerce in Vietnam ( BeluxCham ) in coordination with the Dutch Business Association Vietnam (DBAV) made the announcement at the awards ceremony in Ho Chi Minh City on March 14. Gabor Fluit, the General Director of De Heus Vietnam, won the award for 'Best Manager of the Year'.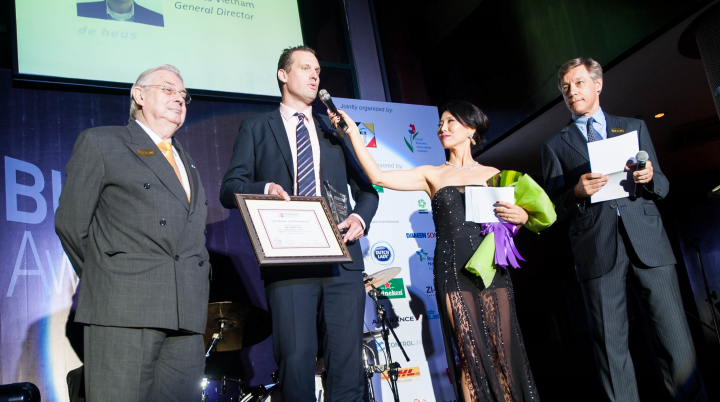 The Benelux Business Awards aims to promote cooperation as well as encourage and recognize outstanding achievements of individuals and companies from Belgium, the Netherlands and Luxemburg in Vietnam. The BeNeLux Business Awards was first organised in 2011 and is open to companies of all sizes, in all fields and for entrepreneurs from BeNeLux.
During the award ceremony, Gabor Fluit stressed that the awards not only represent the success and hard labour of De Heus Vietnam, but that of De Heus Animal Nutrition worldwide. 'Together we have created a success story'. De Heus Vietnam currently has four production locations in Vietnam, with animal feed factories in Binh Duong, Dong Nai and Hai Phong and an aqua feed factory in Vinh Long. De Heus Vietnam is part of the Royal De Heus Group.