First modern slaughterhouse in Myanmar starts production
At De Heus we contribute towards the sustainable availability and accessibility of safe and healthy food worldwide. We work together with customers and chain partners on a sustainable supply chain from raw material to food all over the world.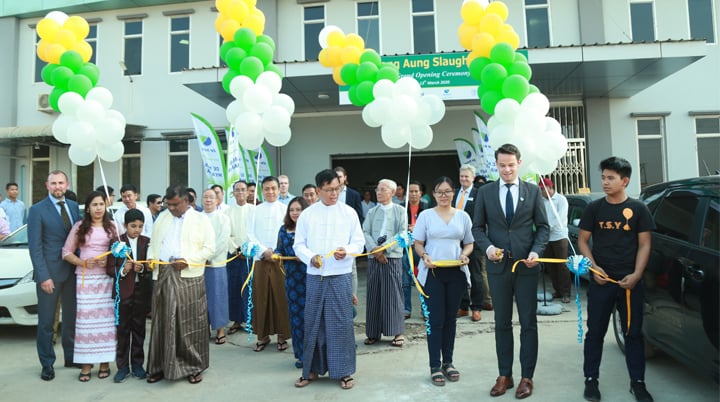 In Myanmar we are part of a consortium – which is supported by the Netherlands Ministry of Foreign Affairs – that works towards a more competitive and responsible poultry sector. Arno Willemink, Managing Director of De Heus Myanmar: "The production of animal protein in Myanmar is developing rapidly. Ultimately the goal is to provide our customers with high-quality feed products, advices and support that enable them to further professionalize their farms and find new markets for their products. Finding new markets requires further professionalization throughout the supply chain. The opening of this slaughterhouse is an important part of that that professionalization."
The poultry slaughterhouse, with a capacity of 1,000 birds per hour, is built on the premises of our partner Wai Yang Aung in Yangon and has started operations on April 25, 2020. The slaughterhouse is designed to meet the highest international standards in terms of hygiene, food safety, working conditions and animal welfare.
"By establishing modern slaughterhouse capacity, we are able to supply the premium market such as modern retail, quick serving restaurants and international hotel chains. This will contribute to the increased confidence and acceptance among Myanmar consumers about the advances of safely processed poultry meat. In addition, it allows for more stable prices for our clients, the independent broiler farmers in Myanmar".
"Stable prices and access to the premium market are an important factor in the professionalization of the supply chain in Myanmar. Giving independent farmers an incentive to produce their chicken in a more sustainable way. This leads to increased attention for animal health and welfare on the production site and better access to safe, healthy, and affordable poultry on the consumer side. I am proud that De Heus takes responsibility throughout the supply chain, this is good for our customers and the development of the entire agricultural supply chain in Myanmar."