Royal De Heus launches centre for practical research into pig nutrition
Royal De Heus opened its centre for practical research into pig nutrition, 'De Elsenpas', on Monday 6 May. Feeding research can now actually begin following the arrival of the first TN 70-SPF breeding sows. The inauguration underlines De Heus' ambitions to take the next step in the continuous development of innovative pig feeds.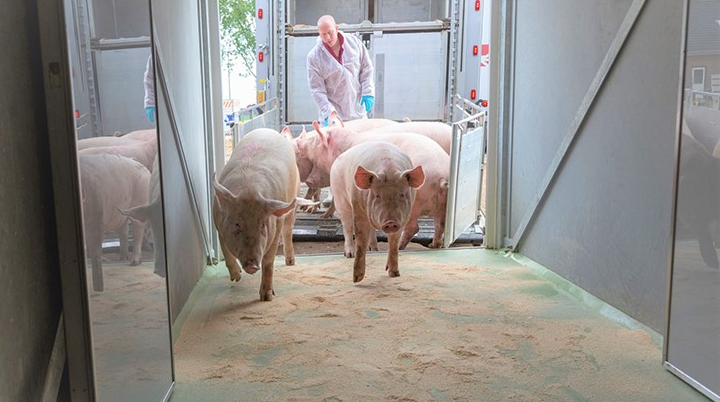 Innovation for the future
Healthy and sustainable pig farming will continue to grow in importance in the future, both nationally and internationally. Rapidly changing and challenging market conditions demand constant innovation. That's what motivates De Heus to focus even more on feeding healthy pigs in the best possible way, with the least possible impact on the environment and society. De Heus has used this vision to invest in a centre for practical research into pig nutrition, in line with the latest animal husbandry, animal nutrition and data technology insights.
Primary research centre tasks
Our research centre conducts nutritional research relating to practical issues. New compositions, raw materials, ingredients or current nutritional issues are examined carefully. This allows new insights to be translated into practice quickly, in the form of innovative pig feeds and the dissemination of knowledge within the international pig farming sector. 
Pig farm replication
The research centre functions as a conventional, modern farm with sows, piglets and fatteners. Imitating the real world under controlled conditions is a prerequisite for thorough research. The centre has space for 230 sows with accompanying piglets, breeding sows and 900 fatteners. This set-up lets De Heus carry out unique nutritional research into all animal groups, and across the various animal groups for which long-term effects can also be determined. The pigs are fed individually in feeding stations. This makes it possible to examine several feeds concurrently. The research centre holds SPF status and has strict external and internal biosecurity.


Innovative data analysis
The strength of this new research centre lies in the huge volumes of data that are collected and analysed. Identifying each animal through a chip makes it possible to collect and analyse data at the individual animal level from each step in the pig's lifecycle. The pigsty climate is monitored continuously. The genetic origin, weight progression and growth results of each animal, up to and including the slaughter, are all documented; when combined with the feeding, the climate and the care, all this provides starting points for further analysis and research. This allows the discovery of new connections and insights, accelerating the growth of knowledge without the need for specific research. The database offers a range of new possibilities for improving feed, services and advice to pig farmers. 
Passion for pigs
The work at the research centre was absolutely made to measure for manager Zias Lukasse: "I have a passion for pigs because they're intelligent and interesting creatures. I used to work in the practical unit of the Faculty of Veterinary Medicine at the University of Utrecht. I also did research there. I'm passionate about learning even more about the entire process from insemination to delivery, while also leading the practical research, so that together with my team I can contribute to the development of knowledge in the pig-farming sector. I can now apply all my knowledge and experience."
Global knowledge centre
De Elsenpas is De Heus' most modern research centre for pig nutrition. It brings together all the knowledge that De Heus acquires worldwide in cooperation with its pig-farming customers and knowledge institutes. "The investment in the new research centre matches our strategy perfectly, to combine knowledge and research further and to use it for the development of innovative animal feed products," notes Martin Rijnen, Group Director Nutrition at De Heus. "It lets us innovate even more effectively and add more value to the pig chain."

Johan Zonderland, Pigs Concept Development & Research Team Leader: "I'm pleased that we're using De Elsenpas for research. De Heus' feed innovations contribute to solutions for the challenges faced by pig farming worldwide: an even better use of scarce raw materials, a low-medication pig chain and a better association with society's wishes and the natural environment."