A new production tower for De Heus Serbia
We proudly announce the commissioning of the new production facility at the location of FSH De Heus in Sabac, Serbia. During a formal ceremony on december 14th  De Heus will officially open its new production facility. With this expansion De Heus increases its capacity by 50%. With this substantial investment De Heus Serbia finishes the first phase of its strategic development plan and strengthens its position on the Serbian market.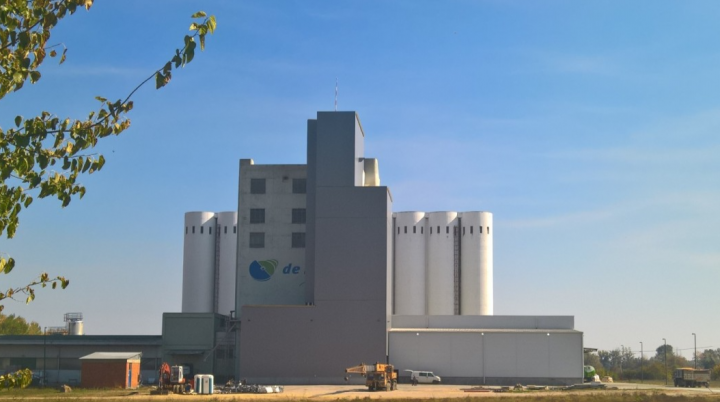 For more than one and a half year De Heus produces animal nutritional products for the Serbian market in the feed factory in Sabac. During this period, the demand for high-quality feed has grown substantially, causing current production location to start reaching its maximum capacity. With this new production tower De Heus is not only increasing capacity with more than 50% alone. It also increases quality and efficiency by meeting the latest global standards that De Heus strives for in terms of high product quality, flexibility in the production of different products, greater storage capacities, fast and efficient loading of vehicles and modern packaging.
Supporting farmers even better
The new production tower contains a line for pelleted feed providing a significant increase in the pelleting capacity. Besides, a brand new automated packing line for finished products was installed. The new tower also facilitates the production in bulk more efficiently. The special bulk station contains a very accurate weighing bridge and silo cells for the storage of bulk products. With this bulk station De Heus increases the possibility to support professional farmers even better with bulk delivery.
High quality Animal Feed
"From the beginning we focused greatly on producing the highest quality feeds available in Serbia. The need for investing in a new plant indicates that the Serbian market has recognized the quality of the products and services we provide and is a clear sign for the new steps of De Heus in this market. With this new tower we can help farmers to increase productivity and optimize their business results even better. Customers see us as a stable partner who helps them to progress, " said Nebojsa Cipcja, General manager of De Heus Sabac. "Our business rests on five pillars that define us: quality, performance, independence, continuous improvement and entrepreneurial spirit. These are characteristics that are key to our success and success for our customers. That's what makes us unique. "
Futher expansion
According to his words, De Heus won't stop here. The ambition to always help their customers to move forward and grow can only be reached if De Heus have and holds the leading position in Serbia. Therefore a further expansion of its production facility at the same location is planned for next year as part of phase two of its strategic development plans.