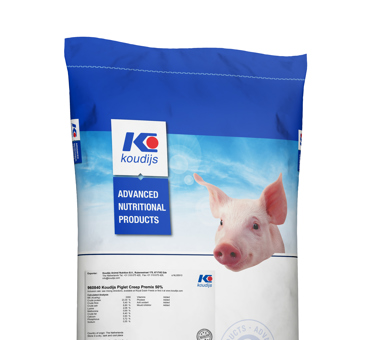 Creep Feed Concentrate for piglets and sows
KPLC 50 Creep feed concentrate for strong piglets and support feed for the sow
KPLC 50 stimulates the intestinal development of the piglets, ensuring vital growth and a good start before and after weaning. You provide a better start for the piglet in the most crucial time of life. Also KPLC50 supports the sow when she needs to keep her strength, in times of negative energy balance. With this easy to mix concentrate you serve the sow and the piglets.
Provides a great start for your piglets

Versatile feed solution for both piglet and sow

Smooth weaning process

Healthy, fertile sows
---
Download the mixing instructions
---
Together with our Swine specialist
Our Swine specialists are proactive, have an entrepreneurial mentality and always look for improvements and a higher return for your company. These core values combined with our on the farm approach and broad range of dairy feeds and services and our practical concepts ensure you with the right advice, the best result and the highest balance on your farm.
Get in touch with a specialist